We offer an integrated online strategy to maximize your business visibility.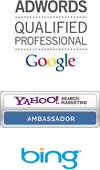 Search Marketing
Our top priority is to make sure you're listed at the top of search results from leading search engines and directories like Google, Bing, and Yahoo!. Browsing the web often starts with a search, and if you're not listed near the top of the first page, you might as well not be listed at all. As Yahoo! Ambassadors and Google Adwords Qualified Professionals, we know how to improve your rankings with the most popular search engines.
Measurable Results
Once we get your brand in front of your customers, what happens next? We track your search marketing from the keywords selected to the search results, past the click-through, and determine if that translates to improved sales. This helps us effectively measure your campaign's success and allows us to stay flexible throughout the process.
Customized Solutions
We create a solution designed to meet your customers at the right time and the right places. Whether you're big or small, we'll work with you to create an online campaign that caters specifically to your market.